Arrêtons-nous un instant sur cette seconde league NBA.

Voici un article sur la vie d'un joueur de la NBLD.
Make Way For Brent Petway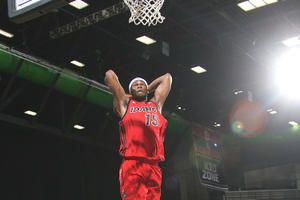 Brent Petway
Juan Ocampo/NBAE/Getty Images
by Stuart Winchester, D-League.com
He's a college graduate, an NIT and NBA Development League champion, and the winner of the 2008 NBA D-League Slam Dunk contest in New Orleans. Like everyone else in the NBA D-League, he's a competitor, as focused on the next game, the next play, his next dribble as he is on his ultimate goal: a spot on an NBA roster.
Click here to download Brent Petway NBA D-League wallpaper.
Brent Petway has been close to that goal. He was cut at the end of the Portland Trail Blazers' training camp one year and played for the Memphis Grizzlies in the NBA Summer League the next, but in the end the Grizzlies only wanted 14 players on their roster.
"I'm always right on the edge of getting in," Petway said after a thrilling comeback win over the Fort Wayne Mad Ants on the second day of the 2009 NBA D-League Showcase in Orem, Utah.
So why, if Petway is so close – if he so clearly possesses that elusive combination of character, skill, dedication, willpower and optimism – hasn't he fled to Europe, where salaries are climbing and even players on the cusp of being in the NBA can sometimes be among the elite?
"This is your best chance of being called up to the NBA," Petway said. "There are always NBA and European scouts everywhere you go. Besides, nobody's saying I can't go to Europe later if this doesn't work out. But for me, for now, this is the best thing."
Petway has seen the Gatorade Call-Ups happen too frequently to doubt that he could soon enjoy the same good circumstances. Just before Showcase, teammate Jamareo Davidson was called up to the Golden State Warriors. It would be easy to be jealous or resentful of a teammate's success, but Petway is a professional.
"I'm definitely happy for Mareo to get called up," he said. "Besides," he added, with a smile, "when someone from your team is called up, it means they're looking at your team. And the way we're playing, I wouldn't be surprised to see another guy called up."
In the meantime, Petway is happy to be playing for the Idaho Stampede, where he helped the team win the 2008 NBA D-League title in his first season. "I'm happy to be back in Boise," he said about the town that he was unfamiliar with upon being drafted. "That was my first time in Idaho, and I didn't know what to expect, but Boise is the capital and there's a lot to do there."
Petway feels good about his game. He's known for being able to lock people down defensively, he says, and his offense is improving, with a better jump shot and expanding range from beyond the arc. He's also devising a few new aerial maneuvers to defend his NBA D-League slam dunk title in Phoenix during NBA All-Star Weekend 2009.
What does he have in mind?
"That's top secret," he said.
Whatever it is, it's clear that he's in great position for big things.